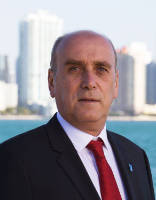 GEORGE FARAZOULIS
Vice President of Business Development
With more than 20 years of international business development and operations management experience, Mr. Farazoulis is a senior member of the Skyline Equities business development team.
His business development activity throughout his career has concentrated mainly in the Middle East (UAE, Kingdom of Saudi Arabia, Sultanate of Oman and Syria), in Latin America (Argentina), and in Europe (Spain, Austria, Italy, Switzerland, Slovenia, Bulgaria and Serbia).
Prior to that, Mr. Farazoulis was the Director of Loss Prevention Activity for the Hellenic Agricultural Insurance Organization in Greece, designing, organizing and supervising all Active Protection projects with an average annual budget of more than $15,000,000.
Mr. Farazoulis' holds a Bachelor Degree in Physics and a Master Degree in Atmospheric Science. He has received numerous awards including the Weather Modification Association International Award. He has also held Chair or Member positions with various organizations including the Chairmanship of the International Committee of Weather Modification Association (WMA).