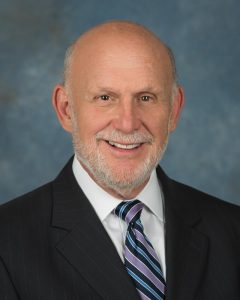 Mark Goldstein
CFO
Mark is a highly qualified Chief Financial Officer offering over 40 years of accomplished financial management, accounting and tax expertise including many years of operational experience. After obtaining a B.S. Degree in Accounting from the University of Illinois and his CPA certification, he began his professional career with a large national public accounting firm in their Chicago office. After a few years, Mark became the Controller of a client, a then very small entrepreneurial company, American Invsco. During his tenure, the company became one of the largest privately held companies in the United States. Mark served in many financial and operational roles for almost 15-years and ultimately became the President and Chief Operating Officer.
During Mark's career he has developed concentrated experience in structuring, organizing and implementing complex financial transactions including arranging debt and equity financing, recapitalizations and liquidations. He is proficient in negotiating acquisitions and dispositions as well as performing strategic planning.
His operational experience includes having served as a Senior Vice President and the head of a Division for an over $20 billion Fortune 500 company, Equity Residential ("EQR"). Under his leadership he managed a staff of over 125 people who were responsible for producing gross sales revenue in excess of $800 million and over $130 million in operating profits with an overall margin of 25% over a four-year period.
Mark is currently a Partner of B2B CFOÒ, the largest CFO and business transitions services consulting firm in the nation, based in Phoenix, currently with over 235 partners located in 46 states. He holds a Certified Business Transition ExpertÔ designation within the firm.
Mark currently lives with his wife, Robin, in Asheville, North Carolina and are the proud parents of two children with three grandchildren. He is currently a member of the American Institute of CPA's and serves as a Mentor for the Asheville Elevate Program, a mentoring program sponsored by the Chamber of Commerce for Asheville "start-up" businesses. In his free time, Mark enjoys playing the piano, exploring his new home of Asheville and spending time with his grandchildren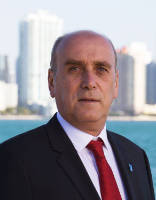 GEORGE FARAZOULIS
Vice President of Business Development
With more than 20 years of international business development and operations management experience, Mr. Farazoulis is a senior member of the Skyline Equities business development team.
His business development activity throughout his career has concentrated mainly in the Middle East (UAE, Kingdom of Saudi Arabia, Sultanate of Oman and Syria), in Latin America (Argentina), and in Europe (Spain, Austria, Italy, Switzerland, Slovenia, Bulgaria and Serbia).
Prior to that, Mr. Farazoulis was the Director of Loss Prevention Activity for the Hellenic Agricultural Insurance Organization in Greece, designing, organizing and supervising all Active Protection projects with an average annual budget of more than $15,000,000.
Mr. Farazoulis' holds a Bachelor Degree in Physics and a Master Degree in Atmospheric Science. He has received numerous awards including the Weather Modification Association International Award. He has also held Chair or Member positions with various organizations including the Chairmanship of the International Committee of Weather Modification Association (WMA).