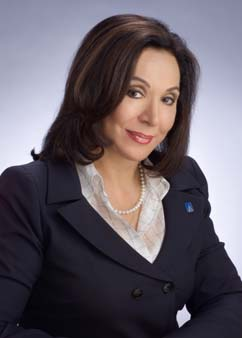 EVANGELINE GOULETAS
REAL ESTATE LEGEND, CORPORATE EXECUTIVE, PHILANTHROPIST, TEACHER, LECTURER
Evangeline Gouletas is one of the most successful developers in the country as she continues her commitment to offering top-quality lifestyle in her residential developments.  With over $5 billion (USD) in luxury condominium sales and more than 30,000 condominiums developed in 40+ markets throughout the country, the Evangeline name is synonymous with prestigious addresses throughout the United States.
Evangeline's development experience includes both, conversions and ground-up construction and complete renovation developments.  New construction or complete renovation projects in Evangeline's portfolio include Buckingham Plaza in Chicago, IL, Barclay Tower in Denver, CO, Lafayette Shopping Mall in Lafayette, IN, Century of Progress in Chicago, IL, and Skyline on Brickell in Miami, FL.
One of the most creative forces in USA residential real estate, Evangeline made her initial mark in the Brickell area with the development and marketing of SKYLINE on Brickell located on prestigious Brickell Avenue, also known as "Millionaire's Row." The 35-story tower is a 360-residence community directly on Biscayne Bay.
Following that successful development project, Evangeline saw the potential of what was to become the heart of Miami's prestigious Brickell area: Mary Brickell  Village.  She acquired the air rights over The Shops at Mary Brickell Village to develop a 35-story, 369-unit luxury condominium tower.   She sold almost all the units in this development, pre-construction, twice during the time she carried this development from 2004/5 to 2012, played a vital role in its financing, and finally sold these air rights along with all the entitlements, permits, and architectural plans, in a successful transaction that opened up new and exciting opportunities for new development opportunities in Miami's current booming real estate development market.
Evangeline has served as FIABCI-USA President and is a current member of FIABCI, an International Real Estate Federation with real estate professionals in 60 countries and a special consultant with NGO status to the Economic and Social Council of the United Nations Organization (ECOSOC).
The South Florida Business Journal recognized her with the Ultimate CEO award and the Influential Business Womenaward for her exceptional leadership. She is the first and only woman to be inducted into the Chicago Association of REALTORS® Hall of Fame. This award is presented to individuals whose leadership and accomplishments soar above the ordinary and possess a high level of character, accomplishment and contribution to business, culture and environment.
A member of the James Deering Society of Vizcaya Museum and Gardens and a Trustee member of the Greater Miami Chamber of Commerce, an organization that recognized Skyline Equities with the 2010 Top Minority Business Award. Evangeline has been commended by political, community and civic leaders throughout South Florida for her pioneering spirit and commitment to the area. Upon their initial meeting, City of Miami Mayor Manny Diaz remarked, "Evangeline's energy and dynamism is exactly what is needed in Miami."
Evangeline is an inspiring lecturer and keynote speaker; she has spoken at the Institutional Investors Conference in London, the Finance Institute at Baruch College in New York for 12 consecutive years, the Harvard Business School in Cambridge, MA and many other professional organizations.
Her tireless dedication to community and philanthropic organizations is equally impressive.  She is a member of the Brickell Rotary Club in Miami, which is part of Rotary International, a worldwide organization in existence for over 100 years, made up of business, professional, and community leaders who value service above self and embrace high ethical standards.  The Brickell Rotary Club also collaborates with and contributes to the Rotary Foundation, a global organization with multiple initiatives to support education, the improvement of health and the alleviation of poverty.
Evangeline sits on the Advisory Council of the U.S. Fund for UNICEF. She served on the National and Chicago Board of Directors of UNICEF for ten years and numerous other civic, cultural and charitable organizations.
She has served as First Lady of New York State.
Evangeline has been bestowed with the title of Her Excellency with the dignity of Commandeur by the historicSovereign Military Order of the Temple of Jerusalem.  She has been bestowed with the title of Grand Commander of the Holy Sepulcher by the Patriarchate of Jerusalem.  She is a member of Leadership 100, a driving force to seed and nurture new programs that promote Orthodoxy and Hellenism into the 21st Century.  She is a member of theOrthodox Christian Network (OCN), an agency of that has been established to create a national, sustainable and effective media witness for the Orthodox Christian Church in North America.
Keeping the confidence that she has carried throughout her career, Evangeline named her firm Skyline for two reasons: because she intends to continue to impact the skylines of major cities across the country and because to her and her company…THE SKY IS THE LIMIT…!